I'm 11 weeks into this parenting thing...and I don't know if it is getting any easier....
Here are a few of my thoughts this Thursday...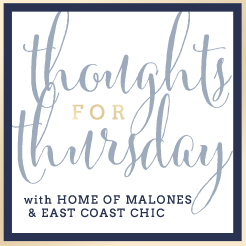 I have left the house with pee on me on more than one occasion because either I didn't have time to change or I just didn't care.
I almost always have spit up on me, hidden somewhere, because Eloise has terrible reflux. And she is always covered in spit up...on her bib or her outfit. Poor thing.
I sometimes forget when I last showered...not washed my hair- SHOWERED. Washing hair is a whole other thing.
I left the house without shoes on and it took awhile to realize it.
I have gotten the kids, myself, bags in the car...but no key. More than once.
Last week, we all cried. Me and the twins just cried one afternoon. Could.not.get.it.together.
They still don't sleep through the night or close enough to make me well rested. I totally thought I would have 12 hours by 12 weeks babies...or at least 8-10 hours. But oh well.
I sometimes regret not trying harder to not have a c-section. I know it was what I needed and I'm thankful because I had fairly easy recovery. But I feel like I missed out on pushing.
After I had the babies, people were so nice to tell me how great I looked (I think people just say that). So then I put lots of pressure on myself to always try and look great and look like I had myself together. And it is just too much. Yesterday I showered, washed my hair, put on make up, got dressed and got the babies dressed...we didn't leave the house until 12:45 doing all of that.
I constantly forget who did what and feel bad that I can't remember which one did what. Trouble with two I guess.
I hate when people ask me how the twins are sleeping...I feel like they are judging me.

I am also SO tired of people asking me if I am breastfeeding. Since when did that become socially acceptable to ask strangers?!
And someone please tell me why people think boy/girl twins could be identical?
Even more annoying when they insist they look so much alike, am I sure they aren't identical?! REALLY?
James & Eloise both have slight flat spots on their head and I'm terrified they'll have to wear helmets and it'll be all my fault that I haven't done enough tummy time.
I think that is enough for today! All in all I love these two and love spending my days with them. But I won't lie...I can't wait until they sleep through the night.