one. I bought this kimono awhile back from Anthro after seeing it on a friend and LOVE it. I've worn it tons and lucky you, now its on sale!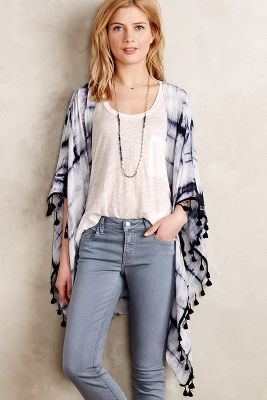 two. I started packing my hospital bag! I know its a little early, but it is the last thing I want to think about. I can't imagine being in labor/in pain and trying to get Dave to find something I need or want. So far I have the necessities: dry shampoo, mascara and monogrammed onesies. :) I've been reading lots of blogs to see what people recommend, hope to finish it up in the next week or so.
three. Before my baby shower last week I went to Benefit to have my brows waxed. I had never been there before, but had heard good things. I also wanted to pick up a brow pencil or tint. They did a great job shaping my brows and I came home with the "gimme brows" in light. It is super easy to use and makes a big difference. I also got lashes put on after hearing what April had to say! I loved them. Perfect for a fun weekend and they lasted easily from Friday-Tuesday.
four. I've updated the sale section on Poppy Style! Lots of fun, very inexpensive jewelry. use sale for an additional 20% off!
five. This is my first Father's Day without my dad. It has only been three months since he died, yet sometimes it feels like 3 days or 3 years. It is the craziest, saddest feeling. I miss him so, so much. But, I am excited to celebrate Dave this weekend as a soon to be Daddy. He is going to be the best! So, for me, everyone hug your dads extra tight this weekend and remember how special they are and how luck you are.