Linking up with Natalie & Annie today!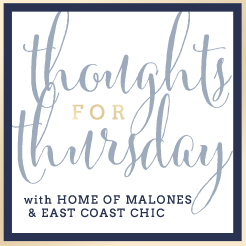 I spent the last 3 days on jury duty. It was for a malpractice suit. The whole time was just spent questioning the potential jurors and trying to fill the seats. I was one of the last called and questioned for one of the last seats. But they excused me without cause after 30 minutes of interrogation! I like to think I am too smart to be a juror :) I LOVE crime shows, law shows, etc. So I wasn't completely opposed to serving on the jury, except that the trial could last 2 and a half weeks! There were definitely boring parts to it. But overall I found it interesting. It was my first time in a court room. I got to hear a little of both sides, see a plaintiff, hear questions, etc. I got to see part of the process up close and personal! I can't wait to follow along with the case and see what happens.
That being said, after 3 unexpected days out of the office I am slammed today with work! But I love what I do and am happy to get busy today. I'm planning an end of summer sale soon, so be sure to follow Poppy Style on Instagram to see it.
I am also looking for a fall intern! If you are in the Charlotte area or know someone who is please send them this info! It is UNPAID however, just FYI. Flexible hours, loose schedule, lots of fun and great perks. They can send a resume to madeline@shoppoppystyle.com.
I think I have decided which purse to get! If you missed Monday's post, I blogged about my oh so serious internal debate about which bag to buy. I think I want this one! In blue!
Dave & I visited the new Charlotte outlets last night. Not impressed at all! We went in Michael Kors so I could look at the watches, they were retail price. No deals. J.Crew Factory also seemed pricey for everything I liked. Maybe when they have big sales it will be worth it.
Tomorrow on the blog I'll be sharing some of my fall must haves. Can't wait to hear what yours are too!