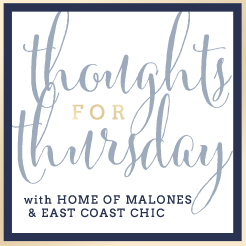 I hope everyone has had a great week so far! I am so glad it is Thursday, I'm ready for the weekend!! Here are a few random thoughts on this Thursday...
I am so excited that my new niece will be here SO soon! I went to a shower for her last weekend and am throwing one next weekend. It makes me giddy to see all the cute little girl outfits and tiny little things.
While trying to run errands as quickly as possible yesterday, I realized I can have very little patience. I was trying to walk out of Target with my cart and someone just stopped right in the middle of the doorway and stood there reading something on their phone. For some reason it REALLY annoyed me! And then I kept getting stuck behind slow cars in the parking lot that were trying to wait for people to leave.
My best friend comes to town tonight and is staying for OVER A WEEK! We have lots of fun filled wedding activities on the calendar.
Does anyone else get really sad when you see something you are dying to have and it is in your size and you are ready to buy it, but then it doesn't fit? This happened this week. A dress was my size and looked like it would fit, but was totally too tight. Which means my diet/no exercise plan isn't working.
Since I'm throwing a bridal shower this weekend and work has been so BUSY, I splurged and had our cleaning lady come. She cleans my sister's and dad's houses regularly but I just get her once in awhile. The house looks and smells amazing. I hope to keep it this way for awhile!
I will leave y'all with one of my favorite quotes/thoughts...